Requirements
> Website redesign
> Training
> Ongoing hosting and support
What the client said
Thank you very much; the site looks much 'fresher' now!
Background
Rainbow Teddies is a pre-school in Thornbury, Bristol. Rainbow Teddies wanted to replace their old website with a site that they could update themselves.
Solution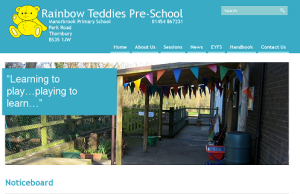 We provided a website based on a WordPress platform.  We designed and built the website on a WordPress platform and provided website hosting.
Rainbow Teddies has been running this website since 2012 and are able to update the site with their latest news and events, without any technical knowledge.